Games for PC
Games for Mac
iPhone/iPad games
Games for Android
Free games
Christmas Games
Game hints

Mousie - Level solutions

Solutions for the other levels of Mousie can be found here.
Go back to the Mousie solutions page.
Level 9 (Kids) - Solution for the game Mousie
Level solution for level 9 (Kids).

1. You need all 4 cheese blocks to get across the gap.
First push the large cheese into the hole.
Next do the same with the 2nd largest piece.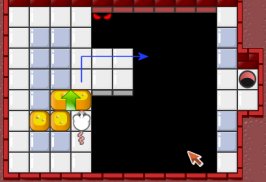 2. Now you need the two small blocks to complete your bridge over the gap.