Games for PC
Games for Mac
iPhone/iPad games
Games for Android
Free games
Christmas Games
Game hints

Mousie - Level solutions

Solutions for the other levels of Mousie can be found here.
Go back to the Mousie solutions page.
Level 2 (Tricky) - Solution for the game Mousie
Level solution for level 2 (Tricky).

1. Push the big cheese block on step up.
Then you can bring it to the left.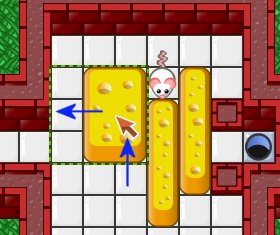 2. Push the other two blocks to the left to open the passage to the exit.