Games for PC
Games for Mac
iPhone/iPad games
Games for Android
Free games
Christmas Games
Game hints

Download freeware games : Summer Bound - solution room 28.

Download the freeware game here: Summer Bound.
Or go back to the solutions page.
Room 28 - Solution for Summer Bound
Solution for level 28 of the freeware game.

1. Change your color to green. Then go to the left and destroy the marked block.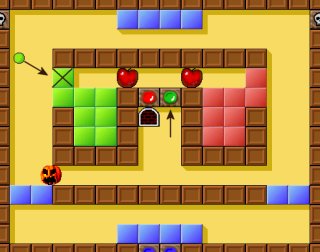 2. Change your color to red. Go to the right and remove all red blocks.
Then push the right apple to the left.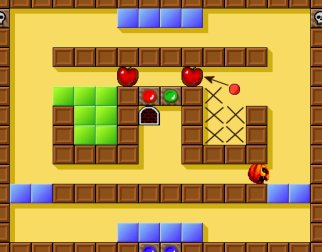 3. Push the other apple to the left so that it will destroy the two blue blocks.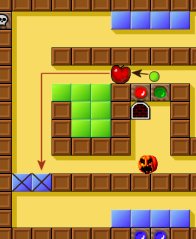 4. Remove all green blocks and wait until the pumpkin has destroyed the blue blocks that block the way to the blue color changer.