Games for PC
Games for Mac
Free games
Christmas Games
Game hints

A Christmas gift game for all players who enjoy tricky action puzzles.
You can download the free game here: Christmas Bound.
Or go back to the solutions page.
Room 11 - Solution for Christmas Bound
Level solution for level 11.

1. Change your color to yellow. Go up and hit the marked present from the side.
Then remove the remaining yellow gifts as shown in the picture.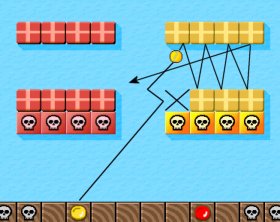 2. Take the other blue parcels on the left side. Then change your color to red while going up.