Games for PC
Games for Mac
iPhone/iPad games
Games for Android
Free games
Christmas Games
Game hints

Free Christmas Tree Games - Play level 18 of Christmas Bound
You can download the free game here: Christmas Bound.
Or go back to the solutions page.
Room 18 - The Christmas Tree - Solution for Christmas Bound
Level solution for level 18.

Clear the green blocks like in the image.
Then drop the apple, it will destroy all remaining apples.
The rest is easy - remove all remaining green parcels. Then clear the blue and cyan ones.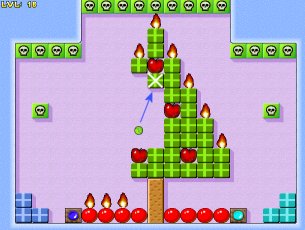 Solution for the old version
Note: This is the old version of the Christmas Tree room. The new one is easier.

1. None of the apples may hit the ground or this room is over.
First remove some parcels on the left.
Then remove the marked parcel that's above the apple.



2. You can use this hole to dig further to the right.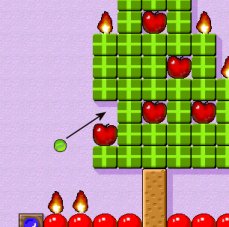 3. Let the upper apple fall down on the lower one.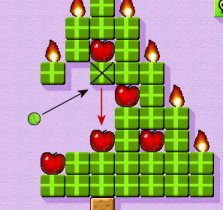 4. Remove some more parcels.
Then push the left apple to the right so that it falls down in the middle.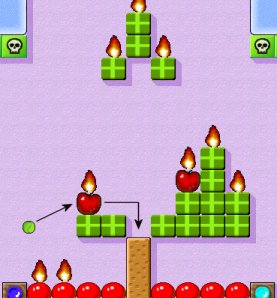 5. The last apple can be destroyed like this. The rest is easy.