Games for PC
Games for Mac
iPhone/iPad games
Games for Android
Free games
Christmas Games
Game hints

Video games for Christmas - solution room 5 of Christmas Bound game.
You can download the free game here: Christmas Bound.
Or go back to the solutions page.
Room 5 - Solution for Christmas Bound
Level solution for level 5 of the christmas video game.

1. Change your color to red and bounce off the green skulls.
Destroy the three red presents on the right.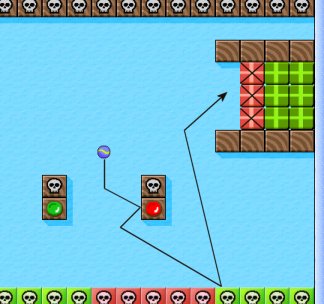 2. Jump down and bounce against the red skulls.
Change your color to green while going up.
Take the three parcels on the left.
Remove the remaining presents using the same method.