Games for PC
Games for Mac
iPhone/iPad games
Games for Android
Free games
Christmas Games
Game hints

Clever games : Frozen Fruits 2 - clever game puzzles combined with action.

Click to go back to the solutions page.


Level design by Kostas Seferidis.

1. Go down and smash some red fruits.
Leave the lower two fruits intact. You will need them to bounce up.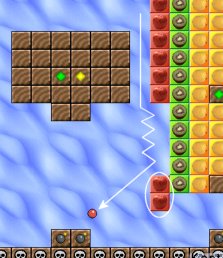 2. Use the two bombs to get access to the green color switch.
Bounce off the red fruits.
When you have the green color you can start removing the green fruits on the right.



3. Use the bomb on the right to get access to the yellow color switch.
Then remove all yellow fruits on the right side.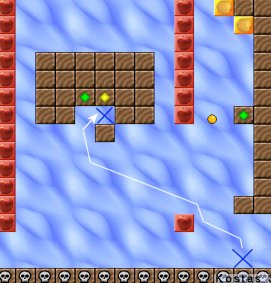 4. Go up and take the red color.
Then go down and bounce off the single red fruit on the right.
Now move to the left and destroy some red fruits on the left side while going up.
Again don't destroy the two red fruits at the bottom.
The rest of this level should not be too hard.