Games for PC
Games for Mac
iPhone/iPad games
Games for Android
Free games
Christmas Games
Game hints
Christmas games downloads for your PC
Screenshots of Christmas Bound
Click on the pictures for big screenshots


Bugs have stolen all
parcels from Santa Claus
Can you bring them back
from Monster Land?

Download this completely free Christmas game.
Solve 32 levels of puzzle arcade fun.
100% safe - no spyware or adware!
File size 0.9 MB
for Windows PCs
Game hints for Christmas Bound
All levels are solvable, though some may look impossible first.
If you need help with a level, please use this link to go to the solution page.
Game solutions


What to do and how to play
Your mission
Collect the stolen parcels by hitting them with your bouncing ball.
You can only collect parcels that match your color.
Use color switches to change your color.
Never hit a skull when you've got the same color!
Game controls
Cursor keys : Move the ball left and right. You can't move up or down.
Space, shift or ctrl : Increase vertical velocity.
ESC : Open the menu where you can restart or quit the current room.


Quest for the stolen Christmas gifts
This is a free Christmas game for kids and adults.
The addicting game has elements of Arkanoid (the brick busting game) but combined with puzzle solving and more hands on arcade action. Christmas Bound requires both dexterity and logical thinking.
Your mission is to explore the Bugs' land and find all Christmas gifts which are hidden in 32 rooms. Break blocks and outwit your enemies to get access to presents, which seem unreachable at first sight. Beware! This is not a simple kid game, some of the levels are pretty tricky.


More fun with Bound Around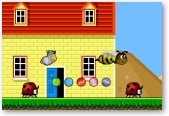 If you like the game, why not take a look at Bound Around? It's a similar computer game with over 160 levels, new enemies, new objects and much more. Click on the image for more information about it.
Play Bound Around!



Thanks to the following sites for featuring Christmas Bound